Welcome to ChristinaBound the official site of Christina Carter. I am a fetish model and producer. My company CC Productions creates exclusive cosplay, super heroine parody content as well as bondage, pantyhose fetish, damsel-in-distress, femdom, BDSM and more exclusively for my site members and clip store customers.

There are two ways to enjoy ChristinaBound. The first is a monthly membership. For $29.95 a month you'll have access to exclusive content that you won't find anywhere else on the Internet. Unless of course it's stolen and believe me it happens! I publish 1 to 3 video clips totaling approxiamitly 30-minutes of HD video monthly to the member's area. Your membership gives you access to my entire library of over 200 videos and thousands of photos. Your satisfaction is guaranteed...whatever your kink.

If a site membership isn't quite right for you, maybe buying individual video clips is... I've got two Clips4Sale stores that feature CC Production newest and hottest releases. One features Cosplay/Super Heroine content and Fetish/Bondage material. Please checkout a clip or two, I'm sure there's one that you'll love.

Looking to have a custom video produced? Please look at my Custom Video page. If you need additional information, I'm happy to help, just Email me and I'll work with you to create your custom fantasy!

Lastly, if you have a minute please checkout my free Journal where I post new content releases, lots of hot, sexy pics as well as keep you updated to all things fetish in my world. I invite you to please comment if you find something entertaining, erotic or just plain funny. I look forward to hearing from you.

Thank you and lots of love,

Christina Carter
NEW THIS MONTH ON CHRISTINABOUND.COM
December Releases:

Catwoman, Double Cross features Christina Carter as Catwoman and Pro Villain, Tim Woodman as her henchman. Turns out money is the root of all evil. The Henchman has pulled off Catwoman's plan of kidnapped the Mayor's daughter, yet demands more of a cut. Catwoman laughs at his demand, but has no idea what lies ahead. Catwoman wakes to find herself bound and facing the rathe of her dreaded single tail and flogger. This clip contains: Struggling, flogging, whipping, ball gag, rope/device bondage and lots of drooling.

Catwoman Double-Cross


9 mins. /143.0 Mb

Legal Trouble, Part 2 is a CC Production's custom video staring Christina Carter and Abigail Mac. Storyline: Detective Carter a Metro cop with the reputation of working her cases alone has her sites set on taking down Abigail Mac, the kingpin in a sex slave ring operating in the city. Detective Carter makes her move and approaches Mac at her house without a warrant or police backup. She quickly finds herself as Abigail's next recruit. Video Contains: strip search, struggle, girl/girl, bondage horse, strap-on dildo sex, mouth gag dildo sex, rope bondage, kissing and oral sex.

Legal Trouble - Part Two


19 mins. /293.0 Mb

In Wonder Woman, Out of Time the ultimate super heroine Christina Carter goes back to her roots in this WW episode. Born in bondage, this girl loves to struggle! Running out of time Wonder Woman is forced watch the time tick-tick-tick away to her imminent demise, as the explosive devise beneath her is out of reach. She struggles to break free from the strict suspension her villain nemesis (Pro Villain, Tim Woodman) has over powered her with. This can't be the end for our Amazonian Princess...could it??! This clip contains: strict bondage, suspension, struggling, and escape.

Wonder Woman, Out of Time


7 mins. /101.0 Mb

---

December 2016 Update:


35-Minutes of Exclusive Video Content Found Only on ChristinaBound.com!

CHRISTINABOUND.COM IS UPDATED MONTHLY. Updates include 1 to 3 videos totaling approxiamitly 30-minutes of content. New photos are posted frequently on Christina Carter's JOURNAL page. Please register to recieve updates. All monthly updates and upcoming releases are available for purchase and immediate download on my SUPER-HEROINE and FETISH/BONDAGE Clips4Sale stores.

I update my Journal weekly. It is where I post my new content releases, lots of hot, sexy pics as well as keep you updated to all things fetish in my world. I invite you to please comment if you find something entertaining, erotic or just plain funny. I look forward to hearing from you.

Interested in a Custom? Visit my Custom Video information page.
Email me your questions: christina@christinabound.com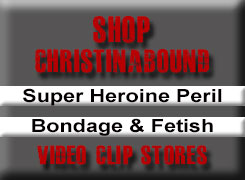 Click on the white bars to shop!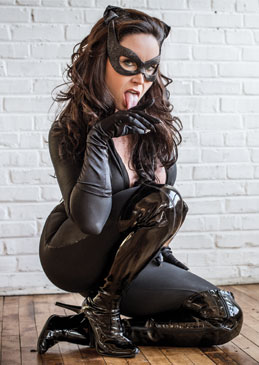 Join me on Twitter.
What you'll find inside.
I love all types of bondage and fetish; Pantyhose/Stokings, Super-Heroine, BDSM, Damsel-in-Distress, FemDom, Girl-Girl, Hitachi Orgasms, Latex, Ball and Cleve Gags, Humilation, Foot Fetish, Balloons, Masterbation, Tickling, High Heels, Pony Tail, Lesbian, Big Boobs you name it and there's a variety of kinky fun for you to choose from. If you want to see the type of content on the site take a look at my Cosplay/Super Heroine content and Fetish/Bondage material on my Clips4Sale stores.The stores have animated gifs and previews. Also take a look at the Preview pages!
I am very proud to announce that I'm producing all of my site's content with my company, CC Productions. What that means to you is all of the new content released on ChristinaBound will be exclusive only to my members!
There is also a huge achieve in the Member's Area of video and photos to check out. You can see work I've done with some of the best... Jim Weathers from Bondage Cafe, JB Roper, David Mack, Kink & more. Plus, pics of me and my sexy girlfriends... Emily Addison, Diana Knight, Carissa Montgomery, Marisa Toe May, Candle Box, Eden Wells, Anastasia Pierce, Dana DeArmond, Darling, Jewell Marceau, Lola, Kordelia & many more!
Problem with the site?
webmaster@christinabound.com